LED SOLID SIDE GLOW FIBER OPTIC LIGHTS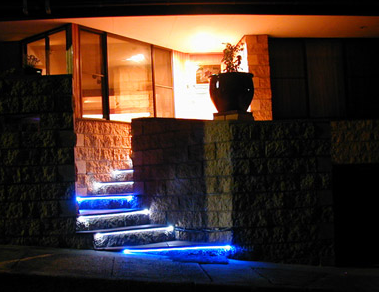 LED Solid Side Glow Fiber Optic Lighting is a single large diameter monofilament which can transmit light over reasonably long distances. Light is transmitted over the entire length of the solid core optic, without electricity or heat.
The Light Source Controller is an illuminator which is placed at one, or both ends of the fiber. Color wheels can be added to the illuminator to change the color of the fiber to as many as eight colors. Utilizing a recently perfected production process called continuous casting; Side Beam solid core optical fiber can achieve brilliant color clarity and a continuous bright light transmission which was not possible in earlier solid core fiber extrusions. A crystal clear Teflon sleeve and excellent core/clad adhesion gives a high intensity brightness along the entire length of the optic cable.
Features:
 Color Available: Light Souce Unit is to determine what color you decided to use, suh as White, Warm White Red, Green, Blue, Yellow or RGB
 Low attenuation, Transition visible light
 Transmit visible light
 Smooth surface
 No heat or electricity transfer
 No ultraviolet or infrared transmission
 Durability
 Good flexibility
 Waterproof and Non-Waterproof
 Nice surface and transparent
 Excellent toughness and can bend random
 Excellent fiber diameter uniform distribution
LED Solid Side Glow Light cable is a safe alternative to neon. It can change colors, is virtually unbreakable and is energy efficient. Suitable for interior and exterior applications, it is UV protected and has an algaecide and fungicide treated exterior jacket for maximum durability against the elements.

Applications:
They can be widely used in the fields of building, landscape, cultural relics and handicraft, bulletin boards, amusement place and special place decorative lighting etc
 Interior lighting decoration of KTV, pubs, coffee houses, Hotels and restaurants
 Artistic adornment in graphical and 3D artistic design
 Large-size backdrop of fibre optic lighting waterfall or light curtain.
 Shopping centre arcades, Discos and nightclubs, Casinos
 Building foyers and corridors, Stairs and escalators; Automobiles, buses and trucks
 Phone booths and bus shelters, Signage
 Shop front window displays, Christmas exhibits
 Ice sculptures and art pieces, Trade shows and exhibitions
 Landscaping along driveways and gardens
 Aquariums, Chandeliers
 Cabinets and ornamental furniture
 Precious artifact lighting, Highlighting building features
 LED shoelace, LED pet necklace
 Pool and fountain lighting
Model Nos.
Outer DIA
(mm)
Inner DIA


(

mm

)

Size

(

mm

)

Weight (kg/roll=100M)
Tube Color
Solid core sideglow light fiber
Sof-1.5
1.5
1.5
300x300x240
0.4KG
Clear
SSof-1.5(super light

)

1.5
1.5
300x300x240
0.4KG
Clear
Sof-2
2
2
300x300x240
0.5KG
Clear
SSof-2(super light

)

2
2
300x300x240
0.5KG
Clear
Sof-2.5
2.5
2.5
300x300x240
0.75KG
Clear
SSof-2.5(super light

)

2.5
2.5
300x300x240
0.75KG
Clear
Sof-3
3
3
300x300x240
1.5KG
Clear
SSof-3(super light

)

3
3
300x300x240
1.5KG
Clear
SSof-3I(super light

)

3
3
300x300x240
1.5KG
Clear
Sof-4
4
4
300x300x240
2.5KG
Clear
Sof-5
5
5
300x300x240
3.3KG
Clear
SSof-5(super light)
5
5
300x300x240
3.3KG
Clear
Sof-6
6
6
300x300x240
4.5KG
Clear
SSof-6(super light)
6
6
300x300x240
4.5KG
Clear
Sof-8
8
8
300x300x240
6KG
Clear
SSof-8(super light)
8
8
300x300x240
6KG
Clear
Sof-10
10
10
500x500x300
12KG
Clear
SSof-10(super light)
10
10
500x500x300
12KG
Clear
Sof-11
11
11
500x500x300
16KG
Clear
SSof-11(super light)
11
11
500x500x300
16KG
Clear
Sof-12
12
12
500x500x300
17KG
Clear
SSof-12(super light)
12
12
500x500x300
17KG
Clear
Sof-14
14
14
500x500x300
22KG
Clear
Sof-14(super light)
14
14
500x500x300
22KG
Clear
Sof-16
16
16
500x500x300
28KG
Clear
Sof-18
18
18
500x500x300
35KG
Clear

Learn More

Model No
Outer DIA
(mm)
Inner DIA


(

mm

)

Size

(

mm

)

Weight (kg / roll = 100M)
Tube Color
Psof-2
3.5
2
500x500x300
1.04KG
Clear
Psof-2.5
4
2.5
500x500x300
1.6KG
Clear
Psof-3
4.5
3
500x500x300
2.44KG
Clear
Psof-4
5
4
500x500x300
4KG
Clear
Psof-5
6
5
500x500x300
7KG
Clear
Psof-6
8.8
6
500x500x300
10KG
Clear
Psof-8
11
8
500x500x300
15KG
Clear
Psof-10
13
10
500x500x300
20KG
Clear
Psof-11
14
11
500x500x300
21KG
Clear
Psof-12
14
12
500x500x300
27KG
Clear
Psof-14
17.3
14
500x500x300
33KG
Clear
Psof-16
18
16
500x500x300
38KG
Clear
Psof-18
20
18
500x500x300
44KG
Clear

Learn More

Model
Outer DIA
(mm)
Inner DIA


(

mm

)

Size

(

mm

)

Weight (kg/ roll =100M)
Tube Color
Peof-2
3
2
ø300x100
1.04KG
Black
Peof-2.5
4
2.5
ø300x100
1.6KG
Black
Peof-3
4.5
3
300x300x240
2.44KG
Black
Peof-4
5
4
300x300x240
3.5KG
Black
Peof-5
6
5
300x300x240
6.5KG
Black
Peof-6
8.6
6
300x300x240
10KG
Black
Peof-8
11
8
300x300x240
15KG
Black
Peof-10
13
10
500x500x300
20KG
Black
Peof-11
14
11
500x500x300
20KG
Black
Peof-12
14
12
500x500x300
25KG
Black
Peof-14
17.3
14
500x500x300
30KG
Black
Psof-16
18
16
500x500x300
35KG
Black
Psof-18
20
18
500x500x300
40KG
Black

Learn More