Combined Wind and Sun Solar Power Hybrid LED Street Lighting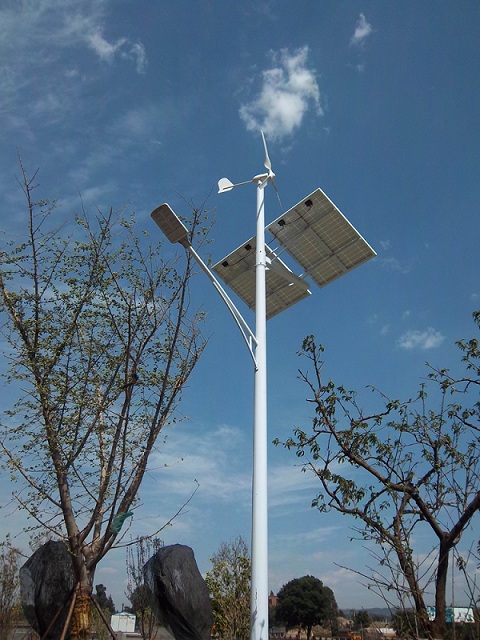 COMBINED SOLAR WIND AND SUN POWER HYBRID STREET LIGHTS
Solar-Wind hybrid streetlight is an intelligent, small scale and off-grid LED street light system. Composed of solar modules and the wind turbine, PV deep cycle batteries, controller and a LED streetlight, this hybrid streetlight takes solar/wind as energy source and utilizes the energy for the lighting automatically during the night.
The Hybrid LED Street Light is a remarkable stand-alone street light which produces and stores the power it produced from the wind and the sun. No underground wires or services are required. On top of the pole is a wind turbine that harnesses wind SILENTLY from any direction, regardless of changes in wind direction and gusting. Along with the wind turbine is a solar panel on an articulating arm that is optimally positioned during the pole installation process to take advantage of as much sunlight as possible – best angle and facing south. All of the generated power is stored in a batteries located at the base of the pole. The lighting is a high-efficiency LED Street light that is as bright and intense as a traditional sodium lamp.
Basically, two lighting systems are designed into one combined system, if some days there is sunlight but no wind energy, the solar panel charges the battery. Similarly if some days there are wind energy but no sunlight, the wind turbine can power the battery. If both wind & solar energy is enough, both can charge the battery. The wind turbine continues to work around the clock supplying energy for the system.
Our LED lighting lamp has been designed to maximize efficient use of the energy generated using a high power energy-saving luminaries which is switched automatically by a light sensor. It is intended for permanent installations and can be located in the remotest of sites since no mains services are required saving on installation costs, inconvenience and time. Whole system is virtually maintenance free and there are NO daily running costs the power is completely free and clean.
Model Number

TQ-SL-C85 Combined Wind and Sun Solar Power Hybrid LED Street Lights (USA Technology)


Replacement for High Pressure Sodiun Lamp Equivalent (W)

250W - 450W HPSV

Input Voltage

24V DC

Power Factor(PF)

>0.9

Total Harmonic Distortion ( Thd)

<20%

Power Efficiency

85%

Lamp Power Consumption

85w

LED Luminous Efficiency

≥80lm/W

Lamp'S Flux

> 6,800 lm(Tj=60℃,Ta=25℃)

Lamp'S Efficiency (%)

>90%

Illumination (E)

(Height = 6m) ≥ 50 Lux
(Height = 8m) ≥ 28 Lux
(Height = 10m) ≥ 18 Lux
(Height = 12m) ≥ 12 Lux

Effective Illuminated Area

(Height = 6m): 24 x 6 m
(Height = 8m): 34 x 8 m
(Height = 10m): 40 x 10 m
(Height = 12m): 50 x 12 m

Color Temperature

Warm white: 2700 ~ 3200K
Cool white: 4000 ~ 4500K
Pure white: 6000 ~ 6500K

Color Index(CRI)

Ra>75

Light Source

CREE

Light Distribution Curve/Beam Pattern

Asymmetric (Bat Wing)/ Rectangular Beam

Beam Angle

130°:The Horizontal Axis:130, ° The Vertical Axis:65°

Junction Temperature(Tj)

60 ℃ ±10 %( Ta=25℃)

System Resistance (Rja)

0.56°C/W

Working Temperature

-40°C ~ 50°C

Working Humidity

10% ~ 90%

Storage Temperature

-40°C ~ 80°C

Working Life

50,000 Hrs

Light Body& Lampshade

Aluminum Alloy And PC

The Dimensions(Units: mm)

865(L) x 335(W) x 109(H)

IP Rating

IP66

Learn More

Model Number

TQ-SL-48 Combined Wind and Sun Solar Power Hybrid LED Street Lights (USA Technology)


Replacement for High Pressure Sodium Lamp Equivalent (W)

150W - 250W HPSV

Input Voltage

24V DC

Power Factor(PF)

>0.9

Total Harmonic Distortion ( Thd)

<20%

Power Efficiency

85%

Lamp Power Consumption

85w

LED Luminous Efficiency

≥80lm/W

Lamp'S Flux

> 5,000 lm(Tj=60℃,Ta=25℃)

Lamp'S Efficiency (%)

>90%

Illumination (E)

(Height = 6m) ≥ 34 Lux
(Height = 8m) ≥ 22 Lux
(Height = 10m) ≥15 Lux

Effective Illuminated Area

(Height = 6m): 20 x 6 m
(Height = 8m): 26 x 10 m
(Height = 10m): 33 x 13 m

Color Temperature

Warm white: 2700 ~ 3200K
Cool white: 4000 ~ 4500K
Pure white: 6000 ~ 6500K

Color Index(CRI)

Ra>75

Light Source

CREE

Light Distribution Curve/Beam Pattern

Asymmetric (Bat Wing) / Rectangular Beam

Beam Angle

130°:The Horizontal Axis:130, ° The Vertical Axis:65°

Junction Temperature(Tj)

60 ℃ ±10 %( Ta=25℃)

System Resistance (Rja)

0.56°C/W

Working Temperature

-40°C ~ 50°C

Working Humidity

10% ~ 90%

Storage Temperature

-40°C ~ 80°C

Working Life

50,000 Hrs

Light Body& Lampshade

Aluminum Alloy And PC

The Dimensions(Units: mm)

565(L) x 380(W) x 160(H)

IP Rating

IP66

Learn More