LED Super Bright Street Light, Flood Light, High Bay Light, Wall Washer Light and Solar Street Light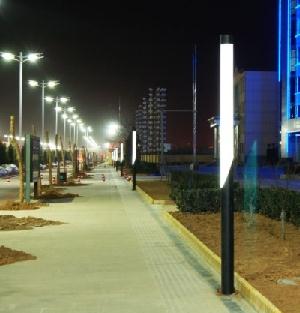 Since the recommendation of our high power Cree LED street lights which are widely used in road lighting, TQ and its working partner had been dedicated its full energy to the research of professional LED lighting products and the improvement of LED technology.
At this time, TQ and its Partner and CREE have reached long strategic business cooperation in the semiconductor lighting to guarantee our customers better quality lighting source. The upgraded LED street lights will all use high brightness American CREE LED. And this kind of cooperation is complied with idea for upgrade UL LED Street Lights. It will be more reliable and effective to solve the heat release issue and keep the quality of our TQ Cree LED Street Lights more stable. In turn, achieving high luminous efficiency, low power consumption, excellent heat dissipation, energy saving rate 70%

Importantly, Adopting independent intellectual property right of the intelligent driver

TQ LED Street Lights adopt a new independent intellectual property right of the intelligent driver in the High Power Cree LED Street Lights. Leaded by a central control system, they can control the lamp brightness from 0-100% and feedback the working situation of each lamp to the central control system by remote control, and this kind of function can highly improve the management efficiency of road lighting administrative authority. At the same time, Upgraded Cree LED streetlights are also more benefit for EMC energy investment companies to control the electricity charge and cost. And TQ and its Partner upgraded Cree LED Street Lights series are the best city lighting energy-saving solution for EMC to recoup the investment rapidly and effectively.


Certified with American UL Certification (UL list number: E330332)
Certified with CE approval and RoHS approval.

Certified with ISO9001:2000 quality control system and ISO14001:2004 enviromental management system.